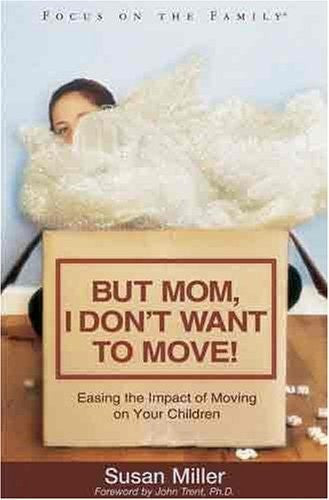 Just Moved Ministry
But Mom I Don't Want to Move
Save $3.00 when you buy But Mom, I Don't Want to Move! AND After the Boxes Are Unpacked together. Go now

You've just told your children "We're moving!" Now what? The news of a family move can trigger a range of reactions from excitement and anticipation to anxiety and anger.
But Mom, I Don't Want to Move! gives mothers the guidance they need to get their children through this major change. Author Susan Miller, who has relocated with her family 14 times, provides practical ways to ease the uprooted feeling children may have before, during, and after a move. Offering specific ideas based on the ages of children and the variety of reasons for relocating, this book is a guide to making the adjustment to a new house, school, and community as smooth as possible.
Soft-bound cover; 154 pages
Want an autographed copy? Call Just Moved at 480.991.5268.
If you are leading an After the Boxes Are Unpacked group, you receive $2.00 off the purchase of each book you order and a special shipping rate! Call Just Moved Ministry at 480.991.5268, Mon – Thurs, 9am-4pm, MST, to receive this great discount!
---
More from this collection