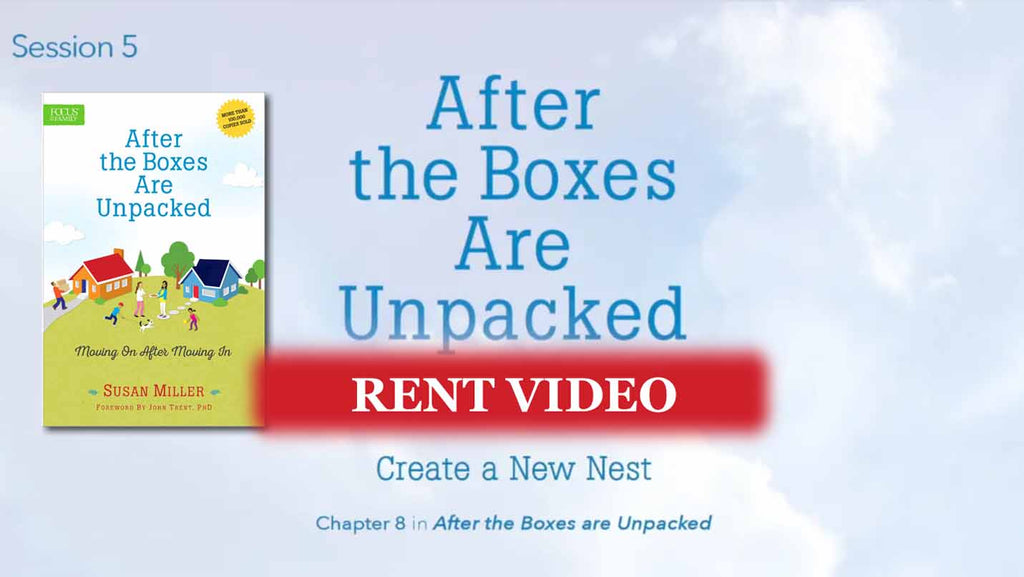 Just Moved Ministry
Session 5 - Create a New Nest: your home is a sanctuary - video rent
In Session 5, Susan Miller will be covering chapter 8 in her book, After the Boxes Are Unpacked. 45 minutes

If you've watched each session so far, you may have a deeper understanding that the choice to let go effects your ability to start over and move forward with your life. If you're still working through letting go, that's okay! Each day, choose to be open to God's leading as He guides you on the path to letting go.
In this session we begin Part Two - Start Over With Hope. Susan will encourage you to create a Christ-centered home that exhibits the Fruit of the Spirit. Your home - no matter where you are or how long you'll be there - can be a Christ-centered, loving sanctuary for you, your family, and your friends.
Since the series is based on the book, After the Boxes Are Unpacked, it is highly recommended that you read it in conjunction with the video. Also recommended is the Newcomer Study Guide. With this guide, you will be led to go deeper and be open to what God may be doing in your life. Save when you buy them together.
---
More from this collection